Tuan Do
In order to determine the accuracy of the MOSFIRE wavelength solution, I compared the solution determined using Ne and Ar lamps with that of the expected positions of OH lines.  This experiment tests a specific night and configuration, so is not meant to be comprehensive.
The dataset comes from observations of the Galactic center on 2012-05-29 and were reduced with an unofficial development version of the MOSFIRE pipeline that was modified to use the arcs to compute the wavelength solution.

The sky spectrum was extracted from a position on the slit and I compared the location of sky lines with that of their vacuum wavelengths to determine the possible systematic offsets.
The sky lines results were: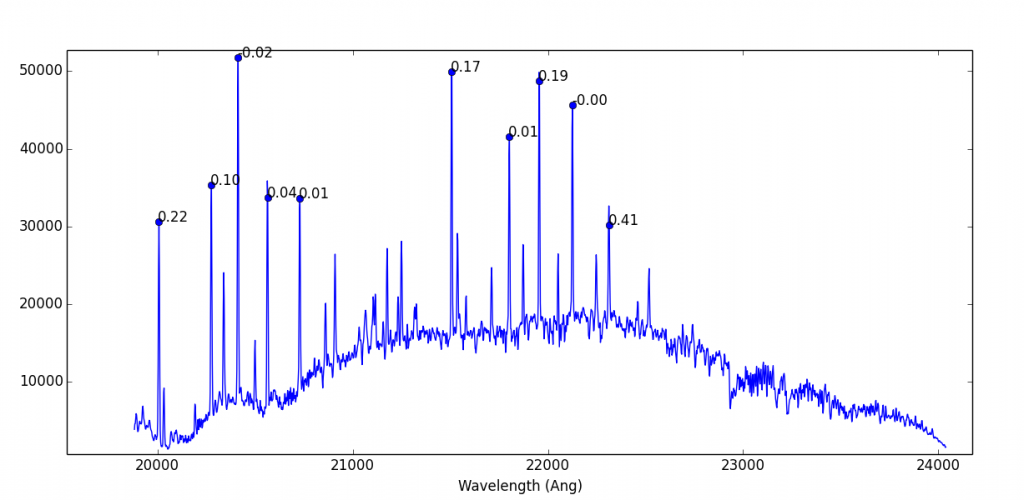 The fit for each individual line and their difference:
fit line: 20007.762697, closest line: 20008.023500, difference: 0.260803
fit line: 20275.868131, closest line: 20275.940900, difference: 0.072769
fit line: 20412.682539, closest line: 20412.719200, difference: 0.036661
fit line: 20563.573483, closest line: 20563.607200, difference: 0.033717
fit line: 20728.986568, closest line: 20729.032000, difference: 0.045432
fit line: 21507.039490, closest line: 21507.187500, difference: 0.148010
fit line: 21802.241253, closest line: 21802.275700, difference: 0.034447
fit line: 21955.506557, closest line: 21955.685700, difference: 0.179143
fit line: 22125.429306, closest line: 22125.448400, difference: 0.019094
fit line: 22312.470517, closest line: 22312.820400, difference: 0.349883
overall average difference: 0.117996, stdev: 0.107980
difference in velocity: 1.637010 km/s, stdev: 1.498054 km/s
The conclusion is that for this set of configuration and night, the wavelength solution between the arc lamps and the sky is better than about 2 km/s.